What makes a story shareable?
Some stories are so good we're still sharing them after thousands of years. Like my favourite story, The Iliad, about the fall of Troy, or perhaps the Easter story, which will be retold and inspire millions all over the world this weekend.
Most stories don't resonate through the ages, like the battle between Achilles and Hector, the cunning of Odysseus and the Trojan horse—a story which was shared in song for centuries before it was even written down.
But let's be real. Most of us aren't writing epics. So, how do we give a story shareability, when we're writing about widgets, whatchamacallits, and thingamabobs-as-a-service? What is the secret sauce that makes a person—a reader, a listener, a viewer—stop dead in their tracks and say to themselves "Aunty Wanda needs to hear this", then hit the share button, when we're writing something that's more or less commercial?
Helpfully, the team over at Muck Rack, in their just-released The State of Journalism 2022 report, have asked more than 2,500 journalists precisely the question: "what makes a story shareable?"
Here's what the journalists said: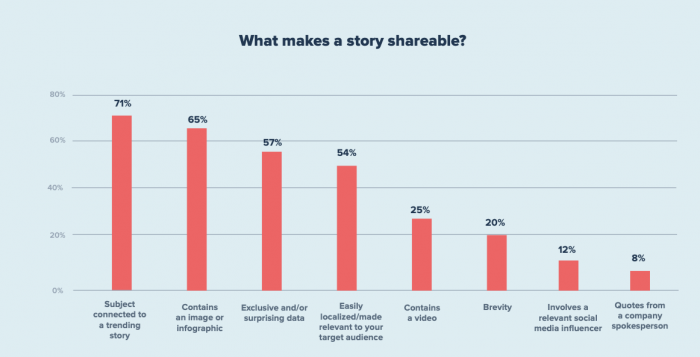 This chart shows us what journalists say works for them, but there's plenty we can take out of it and apply to our own content.
Here are some of my thoughts on the above:
Timeliness matters. If you have an angle on a trending story (what we used to call news), get your related content out as soon as possible
Stories need good pictures (or videos) to really bring them to life, and to make people more inclined to share them
Tell a story (or give information) your audience can't get anywhere else. When you do that, you're adding value for your audience and you're turning your content platform into a destination
Know precisely who your audience is and what they're interested in. Above all else, create content that meets that brief.
Finally, it's interesting to note how little importance journalists have placed on social media influencers and company spokespeople in the shareability of a story. (A handy defence to keep up your sleeve if a client or a boss is trying to jam an influencer into your copy, like a wooden horse through the gates of Troy.)
None of us is likely to write a story that people will still be telling in several thousand years' time, but we can all write a story that'll shift a few widgets and thingamabobs.
It doesn't have to be epic. It just has to be good writing.
Dan Hatch
12 April 2022
Did you enjoy The Write Fit?
The above is just one small part of our fortnightly newsletter. It's jam-packed with excellent advice, tips and news for anyone who writes for their business. Get your own copy here: