This is an excerpt from the tenth edition of The Write Fit, a fortnightly newsletter about writing, editing and proofreading, content marketing and good editorial practices for business, from Sarah Mitchell and Dan Hatch at Typeset.
At my place, the hills are alive with the sound of music Mormon
I have no idea what I was thinking when I bought tickets for a family outing to The Book of Mormon. You've already figured out I wasn't thinking at all. The tickets were incredibly expensive but I was giddy with excitement and it was a chance to spend an afternoon absorbing award-winning entertainment. I was motivated by great reviews and plenty of word-of-mouth referrals. One of my dearest friends went two nights in a row because the first outing was so funny and was, "the best thing I've ever seen on Broadway". Even The New York Times' theatre reviewer said,
"I am here to report that a newborn, old-fashioned, pleasure-giving musical has arrived at the Eugene O'Neill Theater, the kind our grandparents told us left them walking on air if not on water."
My feeble defense is Perth, the place I live, is a loooonnng way from anything and it took more than eight years for the production to get here. (Hamilton is still at least five years away.) I bought tickets for our family without consulting anyone or doing any additional research. The tickets were incredibly expensive but it was a chance to spend an afternoon absorbing award-winning entertainment.
(If you haven't been to Perth, this is City Beach at 3:00 p.m. It goes a long way to explain why I'm happy to live in a cultural outpost.)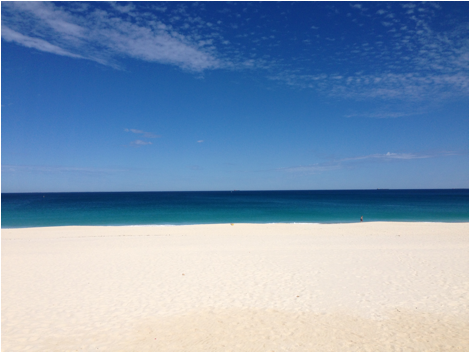 Imagine my surprise, and the look on my husband's face, when we simultaneously discovered The Book of Mormon is no modern-day Rodgers and Hammerstein musical. Did I realise it was written by the folks from South Park? Vaguely. Was I happy my husband was sitting between my son and me as the squirm-inducing lyrics and dialogue began to unfold? Definitely. Will my husband trust my judgement when investing our entertainment budget in the future? Maybe, but it's going to take a long time. Was my son impressed with my choice? On every level, but that's not the point of this story ­– nor the point of parenting as far as I'm concerned.
Marketers often learn this same lesson about intentions versus outcomes. The stakes are a lot higher for businesses than a laser death side eye from the person you spend one-third of your life lying next to in an unconscious state. Consider the example of a Perth-area café who posted a slavery joke on Facebook and Instagram. Time will tell if it ruins their business or if the death threats are real.
Or what about a completely tone-deaf prime minister who put out a political ad as a long-awaited first response to the Australia bushfire catastrophe?
And who hasn't cringed over brands trying to capitalise on a celebrity death? I'll never unsee those purple sausages meant to honour Prince.
But here's the thing: ask anyone responsible for those kinds of colossal missteps and it's not unusual to hear something along the lines of "We didn't mean it that way". Whether you meant it or not, your company has to carry the fallout of a thoughtless tweet, a tone-deaf call to action, or a downright attempt to trade on the misery of another person.
Some hard and fast marketing rules to follow
So, in an effort to ensure it never happens to you, here are some hard and fast rules to follow in your own marketing:
Never trade on a tragedy. I wrote about a better way for brands to react at my Global Copywriting blog.
Never defend a poor decision by claiming you're part of the minority that's been offended and it was only a joke.
And speaking of jokes, humour is hard to do well but easy to get wrong, especially when you're addressing sensitive topics, bad news or an enraged demographic of any kind.
Never claim some of your best friends are [fill in the blank]. In addition to making you look completely insensitive, it patronises the people who are already upset.
Never dig your heels in. When your customers, your target audience or the general public tells you you're wrong, apologise and move on.
If you're feeling even the slightest hesitation about whether something might be misconstrued or found offensive, it's best to abandon the idea altogether. Don't even bother getting a second opinion.
Watch out for long-term damage to your reputation (as a
mother

brand)

When writing for business, the goal is to persuade and/or inform the reader. You don't want to offend them. You certainly don't want self-inflicted brand damage. It doesn't matter what your intentions are, you'll have to live with the consequences and the lingering memory of an angry mob of people who can choose to do business somewhere else.

It's the long-term damage to your reputation that's the worst. My son is hurling crude jokes and vulgar language my way ever since we saw The Book of Mormon. I get it. He thinks I'm a cool mom. (I'm not.) He's had a grown-up outing with his parents and thinks I've endorsed a South Park style of humour. (I haven't.)

My intentions were good but my execution was terrible and I have no one to blame but myself. No matter what I say about what I thought the play would be like, my son will never hear The Sound of Music when he thinks about going to an award-winning musical with his mother. I just hope he doesn't think "maggots in his unmentionables" is as hysterically funny as he did that afternoon. (I can't even bring myself to quote the actual lyric.) On the same day, my husband realised he had the perfect weapon excuse to get out of going to another musical as long as he lives. These are scars I'll take to my grave; I just hope they don't make it into my eulogy.

If you have any examples of how a company has overcome unintended consequences from their marketing or content, Dan and I would love to hear about them. Drop us a line at hello@typesetcontent.com and let us know.

Sarah Mitchell
15 January 2020
Did you enjoy The Write Fit?
The above is just one small part of our fortnightly newsletter. It's jam-packed with excellent advice, tips and news for anyone who writes for their business. Get your own copy here: