This is an excerpt from the fifteenth edition of The Write Fit, a fortnightly newsletter about writing, editing and proofreading, content marketing and good editorial practices for business, from Sarah Mitchell and Dan Hatch at Typeset.
Communications in the time of coronavirus
When the first sentence in an email from your investment company is "It's been a tough week," you know nothing after that is going to be good news. I do give my advisor points for a good opening, though.
I can't think of the last time a single issue dominated every single part of my work life. COVID-19, aka the coronavirus, has infected my work, my news, my social channels, conversations with my family and, well, pretty much everything else.
The pandemic (as of last week) has also become a minefield for people working in marketing and corporate communications. My inbox is flooded with mail from people assuring me everything is fine: "We will maintain business, as usual, and our event will proceed."
And, on the other extreme, everything is not fine. AT ALL. "If you are, or you have responsibility for, any people over the age of 55 — parents, grandparents, aunts, uncles, or siblings – you should make sure their affairs are in order now." I wish I was making this stuff up, but I'm not.
Effective writing during a pandemic
More than ever the way we communicate is a test of our writing effectiveness. Is what we're communicating coming across the way we intended? Are we calming the waters, stoking the fire of panic, or leaving readers dazed and confused? Hastily communicated policies are probably doing a bit of all three.
So, I was particularly excited when I found this gem from Coinbase about how they're approaching COVID-19 communications. The first link in the post takes you directly to their planning and response document they're keeping updated. You're sure to find something in there you might not have considered.
Here's the advice we're sharing with our customers about how to manage their COVID-19 communications, which is pretty much the same advice for any important event.
Transparency works better than platitude
Check your facts and only use trusted sources for information
Make it human; empathy is your friend
Err on the side of overcommunicating.
Make handwashing fun and effective
Apart from keeping everyone informed, every medical professional and organisation in the world is telling us to wash our hands. Not only wash, but do it often and take your time.
The latest craze is to lather up and sing a song to keep you washing for 20 seconds. There's even a free gadget to create a handwashing poster to your favourite song. Every office needs one, don't you think?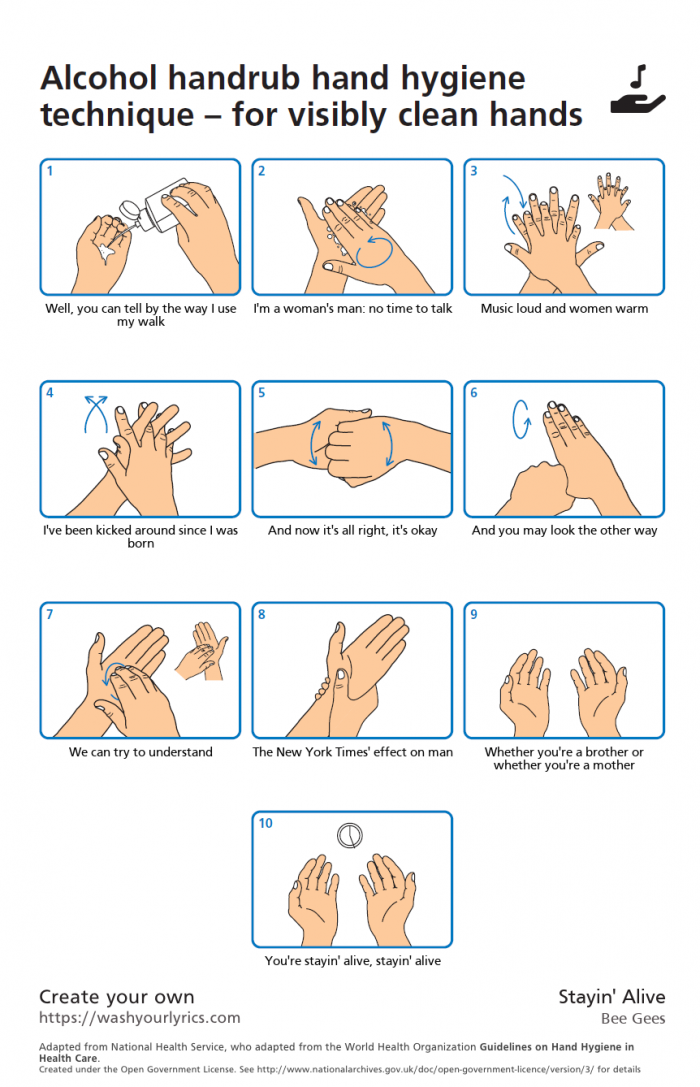 I'll be washing my hands while thinking back to a simpler time when all I had to worry about was whether my hair would ever be as pretty as Barry Gibb's. After looking at my retirement account, I'll be happy if it doesn't fall out from shock.
Dan and I would love to hear from you. Drop us a line at hello@typesetcontent.com and let us know what tips you have for addressing the coronavirus pandemic at your work.
Sarah Mitchell
17 March 2020
Did you enjoy The Write Fit?
The above is just one small part of our fortnightly newsletter. It's jam-packed with excellent advice, tips and news for anyone who writes for their business. Get your own copy here: