My mom was a stickler for words. As a kid, one of the quickest ways for me to land in the "bad-girl chair" was to utter one of the forbidden words. I still can't say (or write, apparently) the four-letter word commonly used to describe flatulence.
I once had my mouth washed out with soap for telling my sister to "shut up". (A common punishment of the era – don't judge.) From a young age, I knew words had consequences.
Mom edited every one of my dad's university papers through two degrees. One of her most prized possessions was a ring with a sizable oval-cut diamond she never took off her finger. It was a gift from Dad for supporting him in his studies and an acknowledgement that good writing matters.
It's no surprise given my upbringing that I take notice when I see advice about words – good and bad. A new report has more than a few gems for content writers. The 2022 State of Media report by Cision is based on survey results from 3,890 respondents across more than 2,000 media outlets in 17 markets: US, Canada, UK, France, Germany, Finland, Sweden, Italy, Spain, Portugal, China, Australia, Singapore, Malaysia, Indonesia, Taiwan and Hong Kong.
Don't use these words
Include these words in your press release and you could be relegated to the naughty chair. Journalists complain they sound like marketing and not enough like news. Whatever you do, don't put them in the headline – it's close to a guarantee the release won't be read. And while we're at it, why not leave them out of your marketing. No one believes them anymore anyway.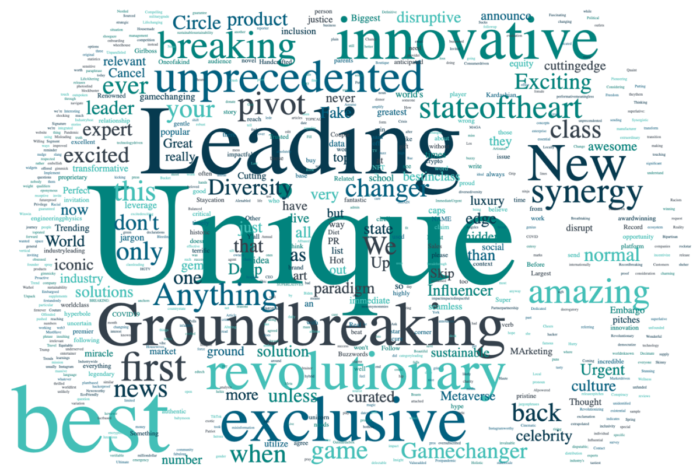 Put these words in your titles
What works? According to years of analysis at Cision PR Newswire on the highest-performing press releases for engagement, action words outperform everything else. These words work better, in order of effectiveness:
Allow
Reveal
Show
Confirm
Rolls out
Award
Announce
Launch
Prove
Release.
In a different era, my mom would have been a content writer. Her letters – and later her emails – were a joy to read and often laugh-out-loud funny. She would have made a lot of money because she could turn the mundane into something memorable. Being intentional about the words you choose is the first step to achieving that kind of result in your own writing.
What words do you refuse to use?
Did you enjoy The Write Fit?
The above is just one small part of our fortnightly newsletter. It's jam-packed with excellent advice, tips and news for anyone who writes for their business. Get your own copy here: