An obituary is a permanent record documenting the life of someone who passed away. Historically, an obituary was written by the local newspaper. More recently, the job is usually performed by someone in the deceased's immediate family. It's never an easy thing to write.
Journalists follow a specific style when writing obituaries. Some of the common mistakes made when writing an obituary include:
Confusing an obituary with a eulogy

Leaving important information out of the obituary

Putting in too many details

Including the wrong kind of information.
Download our obituary toolkit
7 Steps to Writing a Thoughtful Obituary: Everything you need to create a permanent record for people who matter to you is a 10-page toolkit you can download right away to help you write an obituary. It's especially useful when you're struggling to know the best way to approach this difficult job regardless of the circumstances. In addition, it's a useful tool if you want to write your own obituary or be involved in the process of creating a lasting record of your life. We use PayPal to ensure you get get a secure checkout.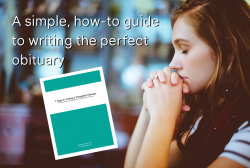 Ask about our obituary writing service
There's no doubt writing an obituary is a challenging task, especially if you've never written one before. In the best of times, writing a precise account of someone's lifetime achievements can be difficult. If you're in mourning or dealing with unexpected grief, it can be an insurmountable job.
Our obituary writers can alleviate this burden and help you:
Create a permanent record of the life of your loved one

Adopt a professional obituary format used by news agencies

Ensure you've considered all the information necessary

Provide tips on how to publish an obituary.
Contact us directly if you'd like us to write an obituary on your behalf.